…and I wish I could thank you all individually for ordering/reading/reviewing/handselling/requesting from your library/etc!
They're all personal but this one means an awful lot to me & it's absolutely amazing to see Mal and Jessa and their questionable adventures already clicking with readers. It was very important to me to write Mal as an introverted, prickly, somewhat antisocial character full of traits that are more often than not deemed "unlikeable" in a female protagonist while lauded in a male one, and also to make her aromantic and asexual, because I am, and I have never yet seen it written in a piece of media in a way that really resonated with me personally. The fact that most readers seem to be 100% getting what I was doing in both of those instances and totally accept Mal for who she is has been extremely reassuring. I've never gotten such an overwhelmingly positive response on a book so early before. I'm honestly blown away. Thank you.
To those of you coming new to my writing: hi! Firebreak has often been called my debut, but it isn't, and my adult debut, which it also isn't. I've been publishing since about 2007 but always with (amazing!!) small presses so while they've been a joy to work with, a lot of my work has gone under the general radar. If you enjoyed Firebreak, check out Archivist Wasp and Latchkey next. Additionally, my Patreon has several years of book extras and stuff (including a ridiculous ongoing fluff piece I've been writing for 06 and 22 in which they are twelve years old and having a Boxcar Children-esque adventure in a shipping container). It's no-tiers, pay-what-you-want for access to everything. Finally, because I'm noticing quite a number of 06 and 22 fans (which delights me), here's a standalone story about them that actually came out months before the book.
I have another book coming out in two months! Jillian vs. Parasite Planet is my middle-grade debut. It's a science-forward survival story including portal-based space travel, creepy mind-control parasites, a snarky cartoon-addicted shapeshifting nanobot swarm, and a protagonist whose anxiety disorder is depicted in a way that is more realistic to my experience than the "shyness" that tends to be the (wildly inaccurate) media default. And it has interior! illustrations! by the incredibly talented Scott Brown. If this sounds like your jam (or the jam of a kid in your life) it's open to preorders now! As always, you can ask your library to preorder for you!
I was given the opportunity to do a bunch of essays, guest posts, and interviews that are ongoing throughout the month. Some aren't out yet but here's a few that are:
I wrote about how "unlikeable" female protagonists are great actually over at Fantasy Book Cafe!
My essay "Sex Is Great, But Have Your Ever Seen Your Real-Life Relationship Depicted in Fiction?", which is about the importance of representing strong platonic relationships in books/movies/etc, is in this month's issue of Apex Magazine and available online 6/3!
The Nerd Daily asked me some great questions here!
Paul Semel asked me some more great questions here!
I wrote about in-medias-res worldbuilding, especially in a cross-genre piece, over at CrimeReads!
At Mary Robinette Kowal's blog I got to talk about my favorite bit of writing Firebreak!
Lastly, on May 27 at 6pm EST I'll be chatting online about Firebreak with Amal El-Mohtar over at Greenlight Bookstore in Brooklyn (virtually) and I'd love to (virtually) see you there! Register here.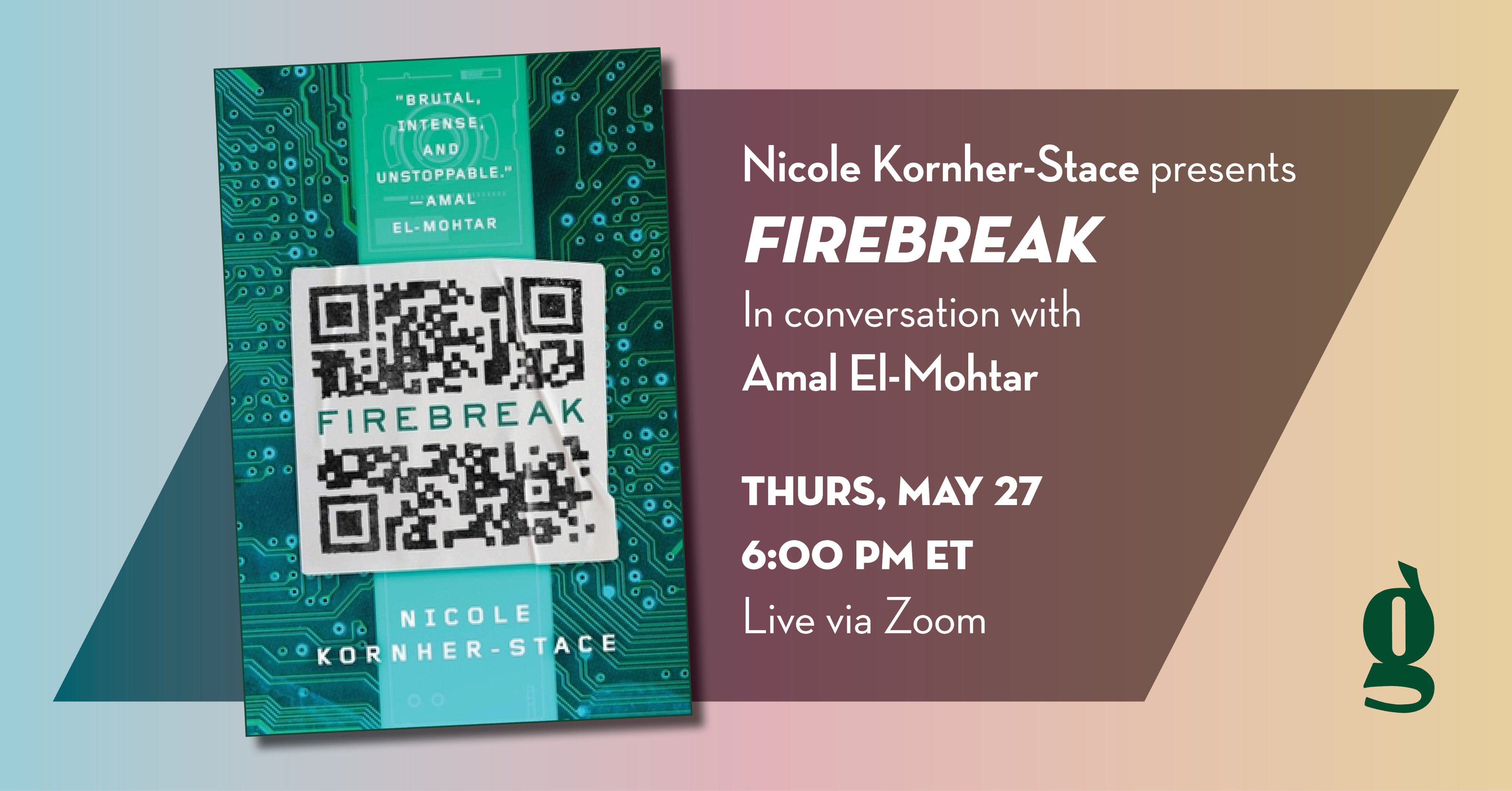 I'll do a review roundup soon and add more guest posts and stuff as they become available, but in the meantime just wanted to say thank you all so much.